CNC Slot Milling Machine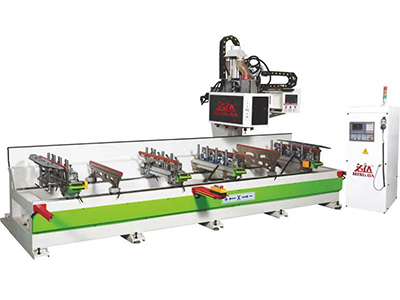 Our CNC slot milling machine is an affordable, high speed and accurate machine suitable for threading, grooving and drilling of a variety of wood furniture, and is designed with 4 different positions to ensure a continuous, efficient timber machining. The CNC slot milling machine also utilizes an advanced, numerical control system, making it consistently accurate and easy to operate.
Specification
Model
MD-3841
MD-3842(4+4)
Maximum width of machining
X Axis: 3800mm
X Axis:3800mm/3600mm
Y Axis: 450mm/120mm
Y Axis: 450mm/120mm
Z Axis: 140mm
Z Axis: 140mm
Maximum speed of movement
X Axis: 60m/min
X Axis: 60m/Min
Y Axis: 30m/min
Y Axis: 30m/Min
Z Axis: 15m/min
Z Axis: 15m/Min
Maximum machining speed
10m/min
10m/min
Spindle power
3.7KW*4
3.7KW*4+2.2kw*4
Spindle speed
18000r/min
18000r/min
Total installed power
19KW
28KW
Total weight
2950kg
3050kg
Installation dimension
4500*2850*2150mm
4500*2850*2150mm
Send an Inquiry
If you are interested in this product, feel free to contact us anytime!